First tattoo since well before pandemic, and I could not be more pleased with it. This is a tribute to two dogs gone too soon – mine, Thela (named for a King Crimson song, Thela Hun Gingeet), five years ago, and my friend's, (Otis)  two or three months ago. Both far too young and much missed. 

Also though, it's for my current dogs, Vera (named for a Blue Öyster Cult song), and Levon, named for Levon Helm. 


Really though it's for all the frenchies, because they're awesome dogs and I love them all.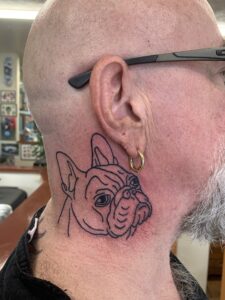 done at Fog City Tattoo in Santa Cruz CA, by my friend  Blake Brand.