I've been a guitar nerd far longer than i've been playing, at least, far longer than i've been playing with any consistency. I loved guitars since my very first experience with music, and I grew up around music, my mom lived and breathed music so it was always there.
There are a few guitars I remember saying, I need to play, because I need THAT guitar.
There are some obvious ones (a classic tele, for example), and some less (a Rick 330 or 360 6 string).
But one that caught my attention a long long time ago was a classic Silvertone amp-in-case my friend had, which won me over with it's cheap, trashy look and feel, as well as it's unique style and sound.
These things were total contraptions; made for Sears as part of thier house brand for music gear, they were built by Danelectro in the mid sixties.
Built to be affordable for beginners, they used inexpensive materials (Masonite top and back, pine) with a semi hollow body, they have a made-from-spare-parts aesthetic. Pickups were housed in surplus lipstick tubes.
They sold for under a hundred bucks at the time, and most notably, included a 3-5 watt amp built right into the case, allowing a beginner to get both guitar and amp and be rocking out wthout any need for further gear.
Like the guitar, the amps look like they were built out of spare parts, but surprisingly, actually sound great; the higher end models even have a tremolo circuit.
In collectible condition (all original) these go upwards of 1600 bucks today; i'm finding some currently priced as high as $2000.
I'm not a big collector of things like this; the slope from collector to hoarder is slippery, I feel. When I buy a guitar it's because  I want to play it. So those collectable all-original, don't-fucking-touch-it examples are wonderful, but, not worth it for me (particularly given my rather rudimentary guitar skills). And, I already own more guiyars than I can play.
A couple weeks ago, however, one if these  – a Silvertone 1457, in original case –  just more or less fell into my lap.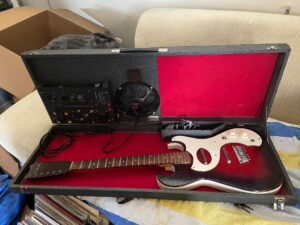 This is a longer story and not really mine, but, a brother-of-a-friend-of-a-friend passed away suddenly (Addiction is a terrible thing); he was a collector/hoarder of various thigs including guitars. SO this instrument was one of the things I saw posted on facebook as available.
I need that, I commented on it, assuming it would be going for far more than I was willing to spend. By my friend said, make an offer; I threw out an amount I felt was fair given that the thing was partially dissembled and in unknown state. My offer as accepted, to my surprise.
When I picked it up, we found the original parts that had been pulled off; the bridge was new (upgraded), and the tuners had been removed but were still in working shape. SO my local luthier, Keith Holland, was able to get it playing with only a little TLC. Everything worked, once they cleaned the tuners up; switches, knobs, pickups, all of it was fully funtional. The did a little fretwork, and I have it back.
IT's clearly been played a lot; this wasn't someone's collectable. It's got dings and chips like a guitar someone played a lot, maybe even gigged with. The pick guard is yellowed, so it's been out of it's case a lot
This is an absolutely wonderful guitar. Light, with a great feeling neck, it's easy to play, easy to get good sounds out of, and sounds amazing with some dirt through my Vox ac15. It's gotten me playing again, after a year or more of having my gear all put away. I have yet to try this with clean/fingerpicked tones or slide, but it feels like it would be amazing for slide.
I'm completely in love with it.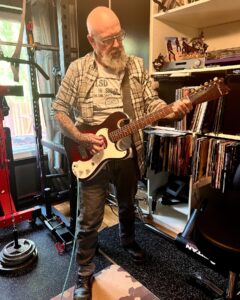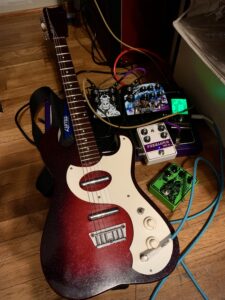 I do not yet have the case/amp back; that's the big question, is the amp salvageable without a lot of money. It was missing some tubes, but the amp tech at Keith's shop is looking at it and will let me know what i'll cost to get it working. I'm hopeful, given the generally good shape. Because the amp has the serial and any other info for authenticating date, I don't yet know the year on this thing, but i'm guessing it's '65, just from pictures I've found on line. I'll post later when I get it back, and hopefully can report that it's playable (and maybe even so a sound demo).